ABOUT ME
Laura Cooper
Tollgate Therapies, Culham, Abingdon, Oxon
07900 342573 / laura@tollgatetherapies.co.uk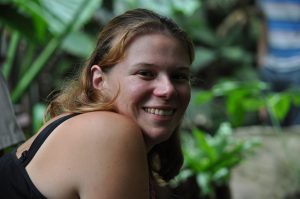 Photo above: Laura at The Living Rainforest, taken by Mike Cooper
I'm Laura Cooper and I run Tollgate Therapies in Culham.
I have been a Massage Therapist and Personal Trainer since 2003 and a Lecturer since 2007. I previously worked as a self-employed therapist as Laura Wells, but after getting married in 2011 and moving to Culham in 2012, I decided to re-launch myself under Tollgate Therapies. My specialist therapy is Sports Massage, but I also work a lot with pregnant women – in both massage and reflexology.
In 2014 Mike and I had our little boy, Monty, at home and in 2016 our little girl, Nancy, also born at home, completed our family (along with our dog Helly!) I am a stay at home mum, and work hours around Mike or family being with Monty and Nancy.
The year after Monty was born, I did my breastfeeding peer support course and babywearing peer supporter course. With a friend at the end of 2015, we created APUK Abingdon – a natural parenting support group with a nappy and sling library. We meet once a week and during 2016 this has grown and we've done many fundraisers as a group, allowing us to train up 6 babywearing peer supporters and become trained ourselves as babywearing consultants. I now run babywearing workshops and consultations as well as continuing to grow APUK Abingdon.
I have taught at both Abingdon & Witney College and Barclay Academy of Complementary Therapy, teaching a whole range of things including Body Massage, Sports Massage, Reflective Practice, Indian Head Massage, Hot Stone Massage, and Ear Candles. I now run courses from home.
In my spare time I am a keen cyclist and love spending time outdoors, you will often see me walking around Culham with my dog, Helly, and in the summer swimming in the River Thames.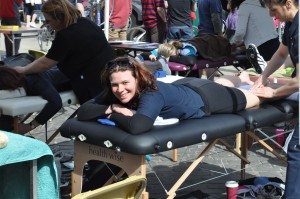 Photo above: Laura enjoying some sports massage herself, from an Abingdon College student. Taken by Mike Cooper at Abingdon Freewheeling Cycling Festival.
Insurance Details – I am insured for Public and Products Liability and Teachers Insurance through the FHT. Please contact me if you would like any further information on this.
I have achieved the following qualifications: –
Subject Specialism
– Reiki Level 1, with Reiki Ribbons, March 2012
– VTCT Level 2 Diploma in Beauty Therapy (including manicure, pedicure, facials, eye treatments, waxing, make up), June 2011
– VTCT Level 2 Certificate in Nail Technology (including nail art and nail extensions), April 2011
– Fake Bake Cream Application, March 2011
– VTCT Level 3 Diploma in Aromatherapy, November 09
– VTCT Level 3 Diploma in Reflexology, November 09
– VTCT Level 2 Certificate in Thermal Auricular Therapy, April 09
– Hot Stone Massage & Advanced Hot Stone Massage (one day courses), August 08
– VTCT Level 3 Diploma in Indian Head Massage, June 2008
– BTEC Professional Diploma in Sports and Remedial Massage Therapy with Pulse Training Solutions. January – October 2005
– VTCT Level 3 Diploma in Sports Massage Therapy, April 2004
– VTCT Level 3 Certificate in Swedish Massage, February 2004
– Premier Training International. From September 2003 to December 2003
Premier Diploma in Personal Training – includes –
Fitness Trainer Award (including First Aid)
Nutrition
Circuit Training
Body Massage
Career and Personal Development
Sports Massage Therapy
Babywearing, etc
– Breastfeeding peer support with NCT, July 2015
– Babywearing peer support with Born to Carry, November 2015
– Babywearing consultancy course with Slingababy, December 2016
Extra Qualifications
– Introduction to Marketing course with Globe Training, December 2011
– Taping and Strapping workshop with the Oxford School of Sports Massage, November 2011
– Level 3 NVQ in Leisure Management with VT Training, January – June 2007
– Keiser Spin Phase 1 Course with Keiser, April 2006
– The Science of Torso Training with Intelligent Fitness, May 2005
– Exercise and Obesity Course with Lifetime Dynamic Training, October 2004
– Weight Management Centre – May 2004 (Qualified to hold weight management courses)
Teaching & Learning
– TAQA Internal Verifiers course, October 2012
– Diploma in Teaching in the Lifelong Learning Sector, June 2010
– A1 Assessors course, June 2008
– Preparing to Teach in the Lifelong Learning Sector course, Sep – Dec 07